Is it time to say goodbye to your old lounge suite? Whether it's due to wear and tear or you're looking for a fresh look, shopping for a new one can be overwhelming. Don't worry, we've got you covered.
As experts in the field, we want to make sure you know the basics when shopping for a lounge suite. Remember, what you can't see matters! The hidden features of a lounge suite can explain the difference between a $2,000 and $4,000 suite that may look similar on the surface. This is why it's essential to know what's under the hood, so to speak, so you can make an informed decision that fits your needs and budget.
Frame Structure
Upholstered furniture that is made to last will feature a solid hardwood frame, a plywood outer and corners will be strengthened with corner blocks that are glued and screwed. Make sure you know what you are buying as these factors affect the strength and longevity you can expect from your purchase.
Some manufacturers may use thinner plywood layers or hollow sides to cut costs. You can check for this by placing your hands on the armrest and lean in with a side-to-side motion.  If there is more movement than you would expect, it may be a sign of a cheaper frame. Less movement equals a stronger frame.
Another quick test is to check for hollow sides, by knocking on the sides of the suite. If it feels hollow, there's probably empty space under the fabric – a sign of cost cutting measures and less structural integrity. On the other hand, if it's a higher quality frame, you should be knocking on the underlying wood and foam top layers.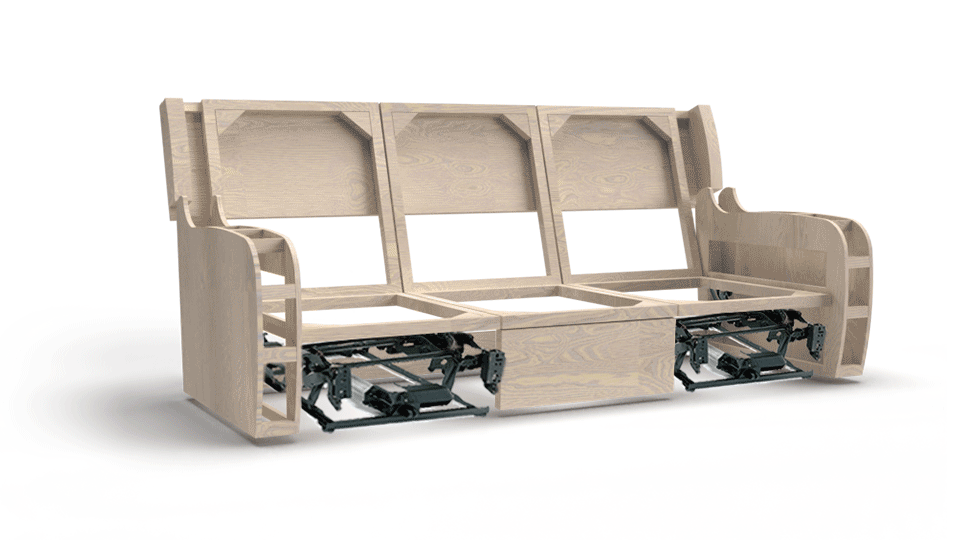 Pictured: The underlying layers of lounge suite construction are an overlooked but very important factor in what makes a high quality lounge suite.
Suspension
What is it? Seat suspension systems are the base for the foam comfort layers. The suspension system flexes when you sit on your furniture.
Why do we have it? Suspension systems play a critical role in the overall comfort and durability of a sofa or chair. A key reason we need suspension is to prolong the life of the foam in your cushions.  Imagine if foam sat on a solid timber surface?  Every time you sit, the foam would take all the weight and would compress much quicker, shortening its lifespan. Suspension, as a base for seat and seat backs, also adds more comfort.
Different types of suspensions are used depending on the suite. For example, recliner suites use Zig Zag sinuous springs as the motion in the recliner mechanism needs a very strong base. Zig Zag springs are a series of S-shaped metal springs and are often used for suites with large seats as well, again due to strength. The spring system is flexible and distributes weight evenly across the surface, reducing the risk of sagging or stretching over time.
Webbing suspension uses strong webbing straps across the frame to support the seat and back cushions. This system is known for its stability and evenly spread support, making it a popular and more cost-effective choice for non-reclining and static suites. Webbing is often used to support back cushions, even when Zig Zag springs have been used for the seats. Over time, webbing may stretch or sag, but can be tightened if this happens. 
Overall, the choice between webbing or strapping and zig zag sinuous springs will depend on personal preference, style, and budget. Ask your salesperson which system the pieces you look at uses and determine if you believe that aligns with the price being asked.
Foam, Feathers and Fibrefill
After seat suspension comes the remaining comfort layers, which are made from foam, often with a fibrefill comfort layer on top.
Foam comes in different densities that can be layered for comfort. High density foam lasts longer but is harder to sit on so adding layers of lower density foams on top achieves the balance of a comfortable seat with good support.
Often there may be a top layer of fibre for additional comfort, and this also stops cushions covers "creeping".  Used extensively in seat backs, fibre fill should be bagged, weighed and baffled (bag is sewn across and down like a duvet). This stops the fibre fill from dropping to the bottom. When used on seats, the amount of fibre fill or in some cases feathers vs the amount/density of foam underneath it will determine how quickly a suite gets the "lived in" look.  If you prefer a more tailored look, make sure you understand the level of fibrefill or feathers being used on your selection.
Upholstery
The component you will likely notice first in store is the upholstery of the lounge suite; whether it's leather or fabric, and the colour will determine what catches your eye on the retail floor.
Upholstery options will also factor into the price and longevity of a lounge suite. For example, a fabric lounge suite is going to be less expensive than a leather lounge suite – but not all leather lounge suites are made equal. The price of a leather lounge suite can vary depending on different leather grades.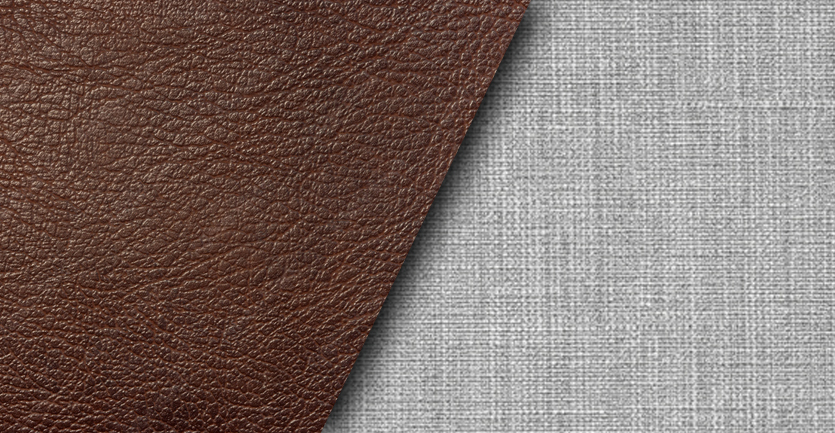 Pictured: The selected upholstery option (leather, fabric or other) will factor into the price and longevity of a lounge suite.
Fabric
There are hundreds of fabric types that can be used in furniture allowing for variety of finished colours and overall styles. Upholstery fabrics fit into 2 categories- Natural and Synthetic (man-made). Natural fabrics are usually softer but don't perform as well as synthetic fabrics. Cotton, silk, wool, and linen are some of the popular natural upholstery fabrics. Synthetic fabrics like polyester, olefin, nylon, acrylic, and rayon are designed to be more durable and stain-resistant and are usually cheaper than natural fabrics. Upholstery fabrics should be tested as fit for furniture, including:
Number of rubs (how long the fabric is likely to last)

Textile Pilling (little "balls" on the fabric, often caused but friction from a throw or clothing)

Light fastness (how long before it fades)

Seam slippage (how strong will seams be when sewn)

Chemical composition (e.g -making sure there isn't high levels of Formaldehyde)

PU
Designed for durability and a "leather look" without the high price, PU is often used on dining chairs, bar stools and massage chairs. Fabric production methods and technology have advanced greatly in the last decade and, used on the right items, most PU options can be a good choice.
Leather
Leather is one of the most durable upholstery materials available. Like all natural materials, leather hides vary in beauty and integrity. Marks within the grain of the leather reflect the life of the animal. Leather keeps its shape, breathes and has insulating properties that makes it warm in winter and cool in summer. It is also fire and water resistant.
When you compare pricing of a lounge suite in fabric vs leather, it is not just the raw material that is more expensive, it is also the labour involved when cutting the pieces for sewing. Fabric can be machine-cut in large stacks, whereas leather is laid out hide by hide so workers can lay pattern pieces, avoiding scars, for cutting.
Many lounge suites will use a top grain leather on the wearing surfaces such as the seats, backs and armrests, and a split leather on less noticeable "non-touch" areas such as the back of the suite and outer sides. After being tanned for colour, leather hides are usually split into two or more layers. The top layer has a multi-directional grain and the next layer, from further down the hide, has a more one-directional grain, reducing its strength. The split layer will have a small amount of adhesive added in the tanning process for strengthening, making it a little less soft to touch when compared to top grain. It's important to know that a split is still considered leather as it comes from the animal hide.
Using split leather on non-wearing surfaces allows manufacturers to offer a balance of price and quality and can be a part of the answer to why some lounge suites that look the same have drastically different asking prices.
Similar to fabric, leather should be tested as fit for furniture, including:
Rub fastness (the colour doesn't wear off)

Tear Strength (the seams won't split)

Finish Adhesion (the finish won't wear)

Flex Endurance (the leather doesn't crack when flexed)

Colourfastness to light (how long before the colour fades)

Chemical Tests for Toxic Dyes in Leather, includes Formaldehyde and Chromium levels (both can cause allergic reactions if too high)

PH (Acidity Level) (how durable is the leather)
Additional Features
There are many other special features available in lounge furniture to add function and convenience to your seating. With additional features comes extra cost, in terms of both materials and certification testing to make sure it's fit for purpose.
Whether it's manual or electric reclining footrests and headrests, electric lumbar support, lift and massage functions, lighting, USB ports, cupholders, hidden storage compartments, Bluetooth speakers, middle seats that fold down into a table; they all must be tested as fit for furniture and for safety.

Be sure to also ask your retailer what type of warranty the additional features will have.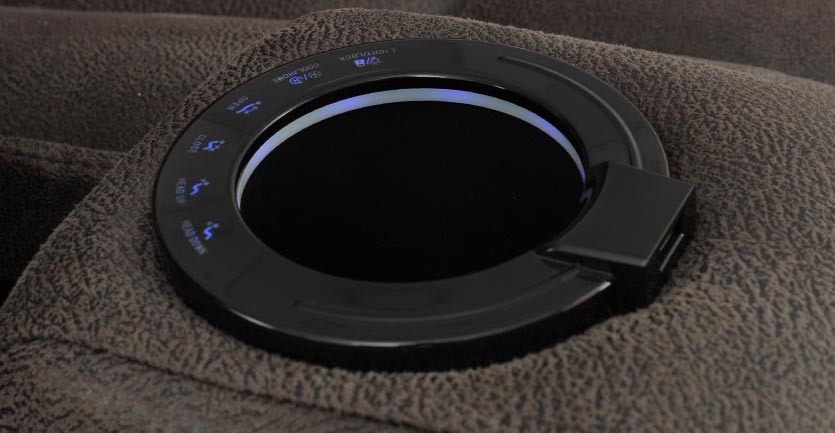 Pictured: Modern lounge suites have many additional feature options such as electric recline, cupholders, USB ports and more - which all come at a cost.
Summary
If you're stuck choosing between two lounge suites that you really love, or even just struggling to understand the high price of something you've seen, we recommend asking the salesperson what they know about the points we've covered in this article, and if they have any printed or digital information with specifications, features and benefits of the suites you are considering. 
With this information, you can make a well-informed investment and rest comfortably knowing you've made a great purchase for your home.
Click here to view Synargy's range of lounge suites